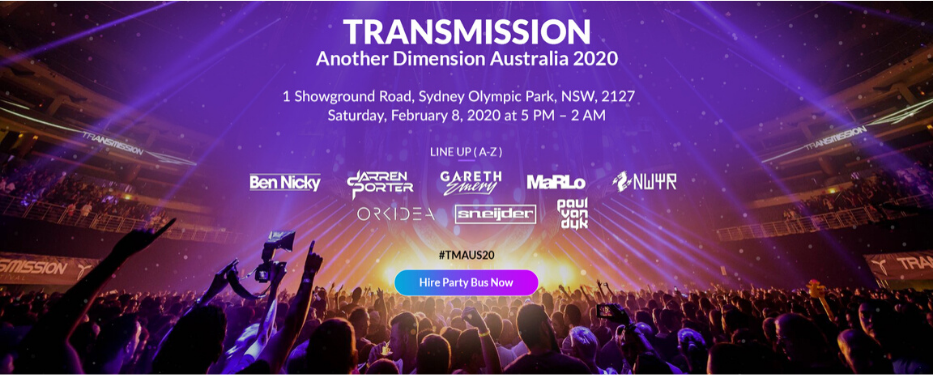 Transmission is one of the hip-and-happening events to take place in Australia and the event is back with a bang to Sydney Showground on February 8, 2020, with yet another fantastic line-up that you can't afford to miss.
Transmission is an extravagant musical event that creates an impressive experience through a blend of electronic dance music, live acts, large projection screens, special effects, heavy laser lighting and much more. If you love Trance music then Transmission Australia is right for you! This is your chance to treat yourself with the ultimate music extravaganza.
Performers for the Transmission Australia 2020 Event
The performers for the Transmission Australia 2020 event include heavyweights such as Sneijder and Darren Porter (Aussie favourites), Paul van Dyk (known as the Godfather of Trance), and Ben Nicky (known as the bad boy of Trance) and the return of Gareth Emery and more.
Wait there is more! Any guesses…
Many more acts are not yet announced, clearly making this one of the most preferred music festivals in the country and one of the major highlights of 2020.

A Little about Transmission Event
Transmission event, one of the top indoor dance events worldwide, draws thousands of visitors from all over the world to its home base – the O2 arena in Prague. Since 2014, Transmission is flourishing abroad and as of now is organised in three continents that include Europe, Australia and Asia. Transmission music style represents trance, tech-trance, progressive trance and psytrance.
Transmission aims to offer a memorable nightlife and music experience that persuades human consciousness optimistically and boosts collective engagement to make a better and more blissful world. Well, undeniably the most important part of Transmission is "You" – who participates in the event to create a mesmerising atmosphere collectively with all the Transmission fans.
Do you want to experience the Transmission Australia 2020 event?
Well, bring your friends and family members along by hiring party shuttle bus in Sydney and witness the electrifying event in great style. Take advantage of to and fro transport facility and be worry-free without the need to arrange the transportation for you and your group at the last minute. So all you have to do is just focus on enjoying the awesome Transmission Australia 2020 event.
Party Shuttles Sydney has a fleet of party shuttle buses with various sitting capacities that includes 13-seater, 20-seater, 24-seater, 25-seater, 40-seater and 55-seater. Party Shuttles Sydney will have the right bus for you and your group at the right price point! So what are you waiting for, find out how many persons will be going to the event with you? Accordingly, book a party bus in Sydney right away and be at ease.
Venue Details:
1 Showground Road, Sydney Olympic Park, NSW, 2127
Saturday, February 8, 2020 at 5pm – 2am