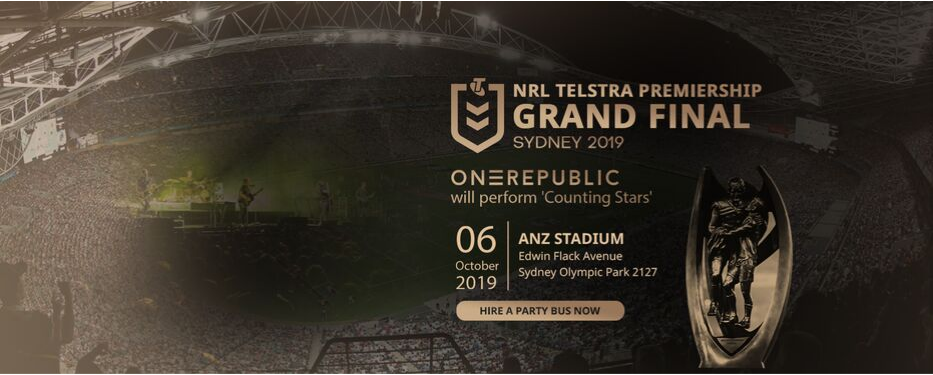 Are you ready to witness Australia's one of the biggest and most entertaining and breathtaking annual sporting event – The NRL Telstra Premiership Grand Final in Sydney?
The NRL Telstra Premiership Grand Final is the best moment of 25 rounds & 16 teams fighting for dominance to lift the most sought after Provan Summons Trophy. Don't miss out on the opportunity to enjoy this spellbinding sporting event that's going to take place on the 6th of October 2019 (Sunday) at ANZ Stadium, Sydney!

Book bus transportation service for you and your group in advance, so you won't have to take any worries for arranging to and fro transportation at the last minute. Besides, hiring a party bus in Sydney is a great way to enjoy Australia's one of the most attended club championship events, the Telstra NRL Grand Final with complete peace of mind. All Rugby League and sports fans out there can't afford to miss it!
ONEREPUBLIC Will Perform "Counting Stars"
There's more to the event – a historic double-header format and a pre-game show from none other than OneRepublic – so you'll be counting stars at this year's NRL Telstra Premiership Grand Final! The widely popular US superstars will perform their hit single 'Counting Stars' at ANZ Stadium along with their other popular hits, before the NRL's own champions occupy the field for the ultimate decider.
Be there to enjoy the mesmerising music numbers and experience the thrills of the Grand Final along with family-friendly fun and fireworks. At Party Shuttles Sydney, our concert and event transportation service will get you and your group to and from the NRL Telstra Premiership Grand Final in Sydney with the utmost convenience and comfort. Our comprehensive fleet of party buses come with different sitting capacities, such as 11, 13, 20, 24, 40 and 55 passengers. Our wide-ranging bus hire fleet will make sure we'll have the ideal bus at the right price-point.
Event Details:
Event Name: NRL Telstra Premiership Grand Final Sydney 2019
Date: 6th October 2019 (Sunday)
Venue: ANZ Stadium, Edwin Flack Avenue, Sydney Olympic Park, NSW 2127.